Nepali Apps
Nepali Apps : Best Nepali Android Apps you must install on your smartphone
The number of Smartphones users, specially with Android OS is increasing day by day. The same scenario is in Nepal too. As soon as we get our hands on new smartphone, one of the first things we do is install apps that we like or the apps that are useful. Here in this post I've prepared a list of must have Nepali Apps in your smartphone, mostly if you're living in Nepal. Go through the list, share your opinion and suggest other Nepali apps that you like.
♦ Nepali Patro
The default Calendar / date in your mobile is most probably English Calendar. Being a Nepali and living in Nepal, most of the times we forget Nepali date. It is much more difficult for Nepali people living abroad. So to minimize this difficulty, install this app "Nepali Patro" on your smartphone.
| | |
| --- | --- |
| Pros | Cons |
| Good widgets for home screen | Pop up message for tutorial shows every time app is launched |
| Option to select Nepali or English Font | App isn't ad-free |
| Countdown for holidays and important dates | |
| Option to Keep reminder for your important works | |
Download Links : Android | IOS
Another good alternative to Nepali Patro : Hamro Patro – Android | IOS
♦ Show Time Nepal
If you go to theaters for movies every now and then, then "Show Time Nepal" is the best app to keep you updated with the recent releases, next change and coming soon movies!
| | |
| --- | --- |
| Pros | Cons / Suggestions |
| Theatre listing | Book Now option redirects to respective theatre's site ( adding payment options like esewa / paybill in the app itself would be better ) |
| Recent Releases / Next Change and Coming soon | |
| Booking option available | |
Download Link : Android
♦ LokSewa Nepal
If you're preparing for LokSewa Aayog Examination, then "LokSewa Nepal" app can be really useful. To keep you up-to date with recent notices from LokSewa Aayog, there's a section "Notice". Another section "Practice" comprises Answer multiple choice questions.
| | |
| --- | --- |
| Pros | Cons / Suggestions |
| Notice Section is up-to date | Resources are not enough. (Practice section should comprise resources for different other posts as well) |
| Practice section has useful resources | ( Separate section for old questions collections would be very useful. ) |
| You can learn by answering multiple choice question (which is a effective way for learning) | |
Download Link : Android
♦ My Nepal
"My Nepal", an app developed by Deepak Dhakal has literally everything! From FM Radio to Recent News and has collection of Nepali Jokes, Nepali Songs, Nepali Videos, Nepali Movies, Nepali TV Series, Nepali Audio Books and more. Additional widgets like Flashlight, NRs. Converter, National Anthem, Forex Info, Rashifal, Gold and Silver Rate and Nepali Typing comes as bonus with this app!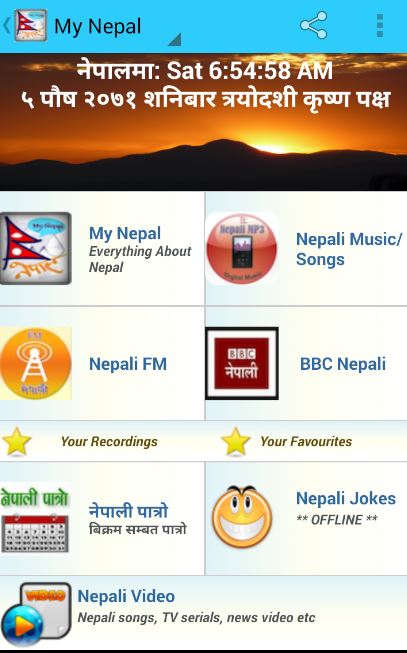 | | |
| --- | --- |
| Pros | Cons / Suggestions |
| Nepali Widgets Collection | Requires internet connection to operate |
| Recent update in the app for news and songs / movies / videos and more!! | Sometimes widget server is slow |
| Lightweight | |
Download Link : Android
♦ AppsJhola
"Appsjhola" is a local app marketplace with a goal to promote Nepali Apps and Developers. Nepali developers who can't publish their apps to playstore due to cross-countries payment system in Nepal can use this local platform instead. Download this app for lots of interesting apps developed by Nepali developers!
Download Link : AppsJhola
♦ Nepal Loadshedding Schedule
Unfortunately a must-have app for people living in Nepal. "Nepal Loadshedding Schedule" has multiple widget options and impressive settings and notification feature.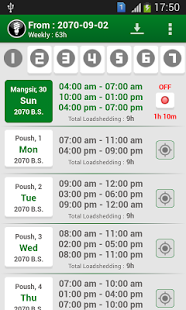 | | |
| --- | --- |
| Pros | Cons / Suggestions |
| Works Offline | Widget (English font) doesn't show Nepali date correctly. |
| Shows Power On/off Status with notification feature available | |
| Find your group by location | |
| Multiple Widgets option / Flashlight Widget on bulb button | |
Download : Android
♦ All Newspaper of Nepal
"All Newspaper of Nepal" has collection of All Top Newspapers published in Nepal. After you click on a newspaper, the app takes you to the official site of that particular newspaper. The app doesn't require any special permissions and can keep you update with recent happening from all top Newspapers in Nepal.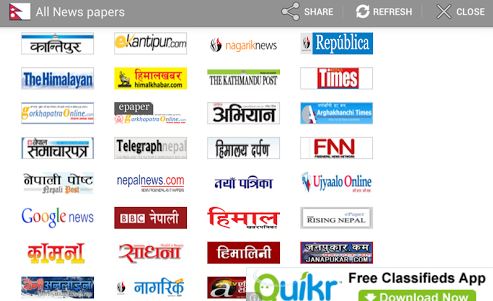 | | |
| --- | --- |
| Pros | Cons |
| Can keep you up-to-date with recent news from all newspapers | No archive / Notification setting |
Download : Android
♦ BaghChal
The classic game 'BaghChal' – Tiger and Goats is now on android. You can play single player, Two player or with a friend via Bluetooth connection.
| | |
| --- | --- |
| Pros | Cons |
| Single Player / Two Player and Bluetooth play mode | Sometimes app crashes or gets disconnected while playing |
Download : Android
♦ nLocate
"nLocate" is an app which helps us find direction, see the places that are around us and search for places and businesses in Nepal. It uses Google Maps in order to show routes and directions.
| | |
| --- | --- |
| Pros | Cons / Suggestions |
| Has listing of most of the Places in Kathmandu like ATM, Bank, restaurants, party palace | Limited to Kathmandu valley only. |
| Use offline feature available | Sometimes even though when you're connected to good internet connection/wifi network, it shows Bad Internet connection. |
♦ Blood Members Nepal
Blood Members Nepal is an application that has been developed to provide blood to those in need by contacting registered blood donors which minimizes panicking created due to Blood Scarcity in blood banks.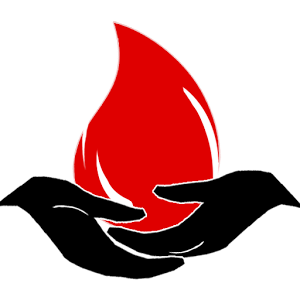 | | |
| --- | --- |
| Pros | Cons / Suggestions |
| Listing of Volunteers so that you can contact them when in need and a separate section "Chahiyo" to help people contact you instead | Needs Internet connection ( At least 10 volunteers can be added to app itself so that they can be contacted in offline mode ) |
Download : Android
Other Nepali apps worth mentioning!
– KMG : KMG app make it easier for us read epapers by Kantipur publication, listen to Kantipur radio and watch Kantipur TV. | Android | IOS
– Nepal Share Market : Keeps you up-to-date with Nepal Share Market details and share value difference. | Android
– MeroJob.com : MeroJob team has made Job search easier with its app with lots of features like post resume and advanced job search. | Android
– Call Break : One of the most popular Nepali Solitaire online multiplayer game. | Android | IOS
– SCT Moco : If you carry a SCT ATM card, then download this app which makes payment solution more easy and hassle free. | Andriod | IOS
– 1ropani.com : 1ropani.com an android app makes in easier find details on recent listings, news and current information about real estate market. | Android
– HamroEntrance : An entrance preparation app which is currently in its beta stage has entrance questions collection of CSIT/Engineering, MBBS/BSc. Nursing and BBA. | Android
– Nepali Song Chord : For those who are into guitars and love Nepali Songs, Nepali Song Chord can be really useful app which has listing of popular Nepali Songs. There's option for advanced search, in case you want to search by Artists and you can also keep guitar chords of your favorite songs in separate section. | Android | IOS
– Hospitals Nepal : An app developed to help us find doctors, hospitals and ambulance is simple yet useful with some extra features like contact information in each listing, navigation and enable alert option. | Android | IOS