Best Movie Quotes that are worth remembering!
Do you remember a movie even after it's been a long time that you watched it? What was so special about that film? Why is there still some traces of that movie in your mind? There may be different reasons for it and one of them is "movie quotes". Dialogues and quotes play significant role in a movie. It's hard to forget movies with great movie quotes that you like or can relate to. Here I've made a list of best movie quotes that are worth remembering and sharing :
♦ Richard Linklater's Before Trilogy is beautiful in every way. In the first film of Before Trilogy Before Sunrise Celine (Juline Delpy) says this to Jesse (Ethan Hawke) in a conversation:
"Only if you find peace within yourself, you'll find true connection with others."
♦ The Godfather is film about family, loyalty, greed, crime, drama. Francis Ford Coppola really made a good film out of Mario Puzo's novel. One of the quotes from the movie that is really worth remembering is:
"Great men are not born great. They grow great." – Mario, Puzo, from The Godfather
♦ I really admire Harry Potter Series (Books and Film Series). It's about friendship, revenge, discipline, love, hate and magic. Not to be missed by anyone. In this quote what Dumbledore tries to say is what we decide in life makes us who we become. Similar quote like this is from Batman Begins "It's not who you are underneath but what you do, defines you."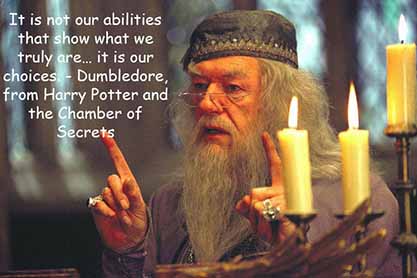 ♦ Empire Records may not be a great film but definitely a good one. I particularly loved soundtrack of this movie. It has tons of laughs, interesting characters, rock 'n' roll, a vain music star and some great dance numbers, with a little romance thrown in for good measure.
"I don' regret the things I've done, but those I did not do."
♦ The Lion King is one the best animated movies ever made with amazing Father-Son relationship portrayal. It's a tremendously moving film with the ability to entertain and provoke joyful feelings with life lesson about believing in your self and overcoming obstacles.
"Oh Yes, the past can hurt. But you can either run from it or learn from it."
♦ In Bryan Singer's The Usual Suspect, Kevin Spacey convinces the cops about a story which they believe to be true, only to reveal at the end that the devil did his deed right under their nose. It has a pretty unusual and unexpected ending.
"The great trick the devil ever pulled, was convincing the world he didn't exist."
♦ The Persuit of Happyness is one of the few movies that touched me from my heart. Whenever I feel low, whenever I feel am going in the wrong direction as I have been forced to think about things by people who constantly ramble about what's right and what's wrong; I re-watch Gabriele Muccino's The Pursuit Of Happyness. Not only is the film beautiful, it's utterly inspirational. One of the quote that comes to my mind is when Chris Gardner talks to his son about standing for himself and not taking anyone else's words as his own.
"Don't ever let somebody tell you……., you can't do something!"
♦ Peter Jackson's The Lord Of The Rings trilogy is well known for the battles, the emotions, the visuals and the friendship. Adapted from J.R.R. Tolkien's book, lotr also have some pretty awesome dialogues. One of the quotes that really is an inspiration for everyone who feels they are too small, or too unnoticeable is:
"Even the smallest person can change the course of future" – Gadriel
♦ Christopher Nolan's The Dark Knight is one of the most remarkable films made in the superhero genre and probably the best one at that. The film features some exceptional words from everyone. One such quote that I found hard hitting was about the wannabe civilized people. The Late Heath Ledger who dons the role of Joker like it was a part of him says: "They're only as good as the world allows them to be." Following it by saying:
"When the chips are down, these civilized people……. they will eat each other"
♦ Stephen Chbosky's novel The Perks of being a Wallflower was adapted to a film of same name. The coming-of-age film was an examination of a troubled teenager and his lonely life as he struggled to make friends, fall in love and get out of his emotional troubles, in that order. There are a lot of lines in the film which are brilliant but my favorite one is:
"We accept the love we think we deserve!"
♦ Frank Darabont's The Shawshank Redemption was a story of two imprisoned men who bond over a number of years, finding solace and eventual redemption through acts of common decency. Hope was one of the most common aspects that the ensues in everyone. Andy Dufresne and Red talk about freedom and captivity in one of the most valuable scenes in cinematic history. Andy exclaims:
" I guess it comes down to a simple choice, really. Get busy living, or get busy dying."
♦ There are a million movies that talk about love and the story behind. 500 Days of Summer was not a love story but a story about love. It talked about the miserable feeling a person get when he is on the thin line of being called a friend and a lover. It's always the bizarre love crap that ever rom-com talks about. The protagonist tells us about Loneliness which no-one seems to talk about. Tom says:
"People don't realized this but loneliness…, it's underrated!"
♦ Quentin Tarantino is an artist. Everything he touches turns to gold. He writes his film with a flare that no one can ever match. His characters are violent people, mostly not likable. But when they as much as speak their heart what comes out is philosophical. Pulp Fiction had Mia Wallace sipping a 5 dollar Milkshake and making you aware of the special someone. Not the one who pampers but the one who makes thing settle down silently and eventually.
"That's when you know you've found somebody really special when you can't shut the fuck up for a minute and comfortably share the silence."
♦ Who hasn't seen Fight Club?! The testosterone boosting psychological masterpiece by David Fincher had amazing cinematography, brilliantly executed performance and incredibly well written dialogues. Courtesy to Chuck Palahniuk's novel by the same name. One of the best characters in the history of films explains life in it's most blunt form. Tyler Durden says:
"It's only after we've lost everything that we're free to do anything!"
♦ One of my favorite quote of all times is also from one of my all time favorite movie "Into The Wild". Sean Penn Directed the film with impeccable care and Emile Hirsch breathed life into the character of a drifter who wanted to notice and live life on his own terms. Our very own Alexender Supertramp examines life and scribbles this in his journal:
"Happiness is only real when shared!"
These are the best movie quotes that are worth remembering. Any movie quotes you'd like to share? Please comment below and I'll add some of those to this list. 🙂